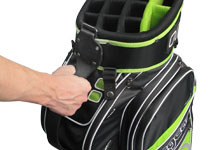 Flex Handle
The Flex handle allows for easy pick up and stays out of the way of cart straps.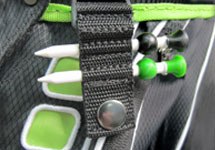 Tee Strap
An easy place to store tees. Snaps onto the Towel D-ring so it also fits the cart handle.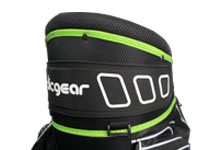 Rubber Strap
Reduces wear and prevents bag twist.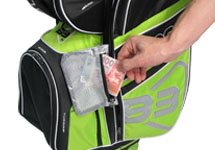 Side Pocket and Waterproof Pouch
Giant full length side pocket for shoes, beer or jackets. Inside is a handy waterproof storage pocket.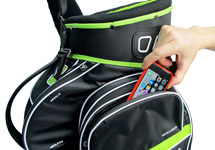 Valuable Pocket (left)
A large lined pocket for stuff you want to keep safe and scratch free.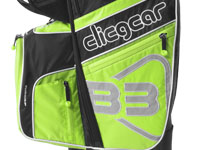 Lower Side Pocket
A nice medium size flat pocket for old score cards.
Water Bottle Pocket
A very useful expanding water bottle pocket for large bottles and cans.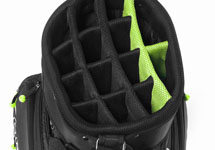 Top Club Grid
The unique club divider system keeps the noise of banging clubs down by staggering them inside this unique grid pattern. Longer clubs sit towards the front of the cart.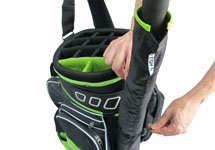 Umbrella Storage
Umbrellas can be stored inside the larger colored pockets of the divider grid or on the outer umbrella storage on the outside of the bag.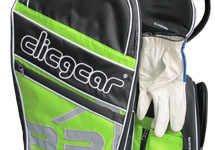 Glove Velcro
We added a couple of velcro patches to attach your glove during or after the game.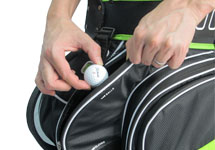 Extra Large Ball Pocket
A nice big ball pocket for plenty of ammo.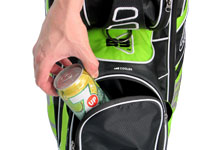 Lined Cooler Pocket
A nice large and lined cooler pocket with drain holes.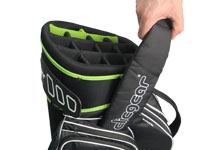 Shoulder Strap
Nice and wide shoulder strap with storage pocket while on the cart.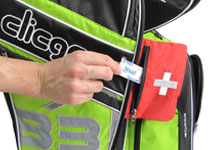 Right Full Length Pocket
Giant side pocket for even more shoes, beer or jackets. Inside is a handy first aid pocket.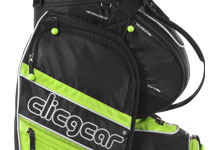 Upper Side Pocket
A simple medium unlined pocket.
Lower side pocket
A medium sized flat pocket.